This is the homepage of Ingrid E. Hagen's fellowship project in the Norwegian Artistic Research Programme:
Sense and Sensibility – performing music of Carl Philipp Emanuel Bach.
The project was completed by Viva Voce
in February 2018 at the Grieg Academy, Bergen. The jury consisted of the pianists Tuija Hakkila, Bart van Oort and Christina Kobb.
The project was presented to the public by the means of a final concert, a CD-release and a reflection published in the Research Catalogue, an international catalogue of artistic research.
Please do not hesitate to send an e-mail if there is anything you would like to know, or want to update Ingrid on things she ought to know, or if you disagree with her views on music, the universe and everything. You can also visit the project on Facebook.
Reflection
The reflection is online. It aims to describe the project in terms of processes: the processes og thought, and their practical and artistic expressions. Here you find texts, videos of concerts and presentations, and snippets from the CD.
Final concert: Performing music of Carl Philipp Emanuel Bach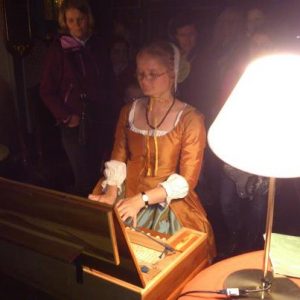 In encountering Carl Philipp Emanuel Bach's complex and expressive music – in encountering the clavichord, as intense and nuanced as it is sensitive and soft – in encountering the idea of musical empathy; performer and listener sharing the true content and emotions of the music – a necessity of closeness, of intimacy is formed.
But how close can we be? How close do we want to be?
Close enough to hear the instrument. Close enough to understand what the music is saying – to follow in all the wonderful waves of – sharpest wit. Deepest sincerity. Sweetest caresses. Bubbling joy. The idea that cannot – can… not… – …
But then the floor creaks. Someone moving on the seat. Can't hear. Why is she playing so softly? Can't understand. So many notes. Increadibly, endlessly fast! Whoever was this guy – he's been dead for a long time, hasn't he?
Ingrid E. Hagen has worked within the field of tension between intimacy and distance. She has tried out different means to come closer, and felt the recistance that arises in different situations.
In the final concert, the audience was presented with an experience of this field of tension. Clavichord music triangulated by fiction literature and poetry, warming chamber music performed together with Øivind Nussle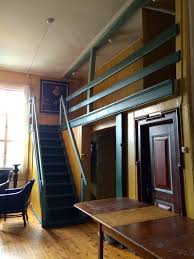 (violin) and Hans Gunnar Hagen (viola), as well as such a close meeting with the clavichord that you cannot come any closer.
There was also showed some video clips of earlier parts of the project, and the CD für Kenner und Liebhaber was released at the concert.
14th of November 2016, at Stranges Stiftelse, Bergen.
für Kenner und Liebhaber: CD-released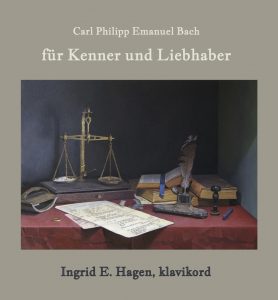 As a part of the completion of the project, I recorded a CD. It contains a selection of clavichord music from the late collections "für Kenner und Liebhaber". The CD was recorded in the beautiful Hamre church on Osterøy in April 2016, with the invaluable assistance of producer Signe Bakke and audio technician Davide Bertolini.
It was released on the label Euridice (EUCD 104), as part of the final concert for the project.
The front cover painting was made in 2009 by the eminent Atle Skudal, who is generous enough to let me use it.
Older posts ->